Hi I was studying probability density and on a site I read this example
Mr. Rossi waits for a phone call from Mr. Bianchi who has announced that he will call, in an unspecified instant, between 4:00 pm and 6:00 pm. Mr. Rossi must however be away from 4.45 pm to 5.00 pm. What is the probability that the call arrives while Mr. Rossi is absent?
The instant of the call is a random variable X. As far as Mr. Rossi knows, every moment from 16:00 to 18:00 is possible, while outside this interval the probability is zero. So it is intuitive to consider X to be a random variable, whose density is a constant value: c on the interval [16,18] and has the value zero outside this range. How much is the constant c? It must be such as to satisfy the relationship:
that is, the area of the rectangle with base [16,18] and height c is 1. So 2c = 1 and therefore we have c = 1/2. The density function of the variable X will be: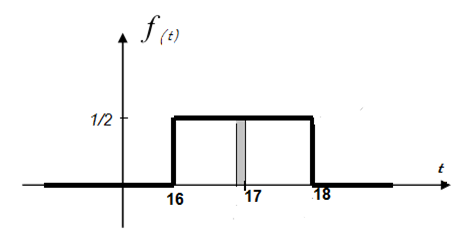 The area is equal to the probability P (16:45 ≤ X ≤ 17:00) and we note that the value of this probability is 1/8 (the area of the rectangle is 1)
I can ask you these questions:
My questions:
How have he calculated the probability of the rectangle (1/8)? The area of the rectangle is '' 1 '' but how did he calculate the probability of 1/8?
question numer 2 : Suppose that in the interval (a, b) (time in which you expect the call) there are some subintervals that they have not the same probability of the others subintervals for the call to be received, for example immagine that at 17:58 there was a greater probability of receiving a phone call compared to other subintervals. In that case, how do you set the density function?
question n 3
Are there software in R to calculate probability densitity?
Last edited: